Many Vietnam Vets, frustrated, bricky hot, dirty with an ageless dirt, tired beyond physical endurance, weary to the bone, scared, skeptical of authority that had lied to them too many times before, boys who had done more than they could in good conscience do, seen more than they could bare to see, lost more than they could afford to lose, when conditions seemed impossibly unbearable, uttered these painful words that became a common saying...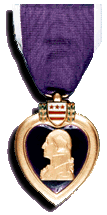 It Donít Mean Nuthiní

by Gary Jacobson © 2003
ďIt Donít Mean NuthiníĒ
A phrase oft repeated in Vietnam, worn paper thin
By soldiers used an awful lot
When itís gettiní bricky hot...
Under pressure with lives on the line
Melancholy existence on a definite decline.

ďIt Donít Mean Nuthiní, they sayĒ
Turning stone-faced from fears to walk away
As though something's stolen part of their soul
Left no way sorrow's grief to console
Led too far astray in hell's battles darkning gray
Forever boyhood humanity to betray...
Staggering memories stored way down deep on the pile
Hidden from the light of day...for awhile!
"But It Donít Mean Nuthiní"

It Donít Mean Nuthiní
He says, when things happen that mean plenty
To tough combat grunt gentry
As things in war too often do...
Boiling over in Nam's killing zone damps and dew
Not able to face it
Not now...
Too painful to think about it
Not now...
So forget about it...
Bag it
Take this shit and shove it
Nuthiní I do or say makes any difference anyway
So put it on the back burner till another day
Pretend it didn't happen
Cause ďIt Donít Mean NuthiníĒ

It Donít Mean Nuthiní
Means he couldnít handle it that day
So he walked away
Fraught with a lonely stare of dismay
Repressed it...denied it
Sick of it...belied it
Pushed it down somewhere in the back of reality
Crammed down a crack of the last vestige of sanity
Lost in the context of where he was going
In order to go on doing what he was doing
Heartsick from unbearably painful sights
Took that next step away from unthinkable afterthoughts.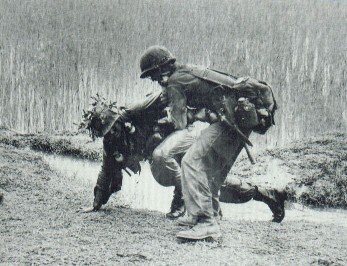 It Donít Mean Nuthiní
He says, when the world seems so unfair
In a world of unimaginable danger a very soul will unbare
Ordered to walk point again
Durn...
And it wasnít even his turn
A shock
Load and lock
Go forth, yours but this violence to pursue
Go forth, as fears in the shadows ensue
Ordered to hump into the heart of the gloom
Dead weight on your shoulders of impending doom
In an alien, unknown war virtually alone
Without a love of his own.

It Donít Mean Nuthiní
Cause nobody cares if you donít want to
Never quite ready are you
For dedicated men constantly trying to kill you
Preoccupied with your dying
In wait for you lying...
Here, there, along jungled treeline
Prone behind that entangled vine
Just off the trail in a ditch's rocky incline
Go, dive deeply into this living nightmare impacted
By some politician back home patriotically advocated
Cause ďIt Donít Mean NuthiníĒ

A kid begging for candy has a grenade strapped to his back...
It Donít Mean Nuthiní
When you kill your first man...
ďIt Donít Mean NuthiníĒ
Forever haunted by the last look in his eye...
ďIt Donít Mean NuthiníĒ
Receiving a ďDear JohnĒ from your girl, diamond ring inside...
It Donít Mean Nuthiní
Tormented by water, leaches, footrot up to my thigh
It Donít Mean Nuthiní
You didnít want to live forever, did you?
Cause "It Donít Mean NuthiníĒ


No one back home can ever understand
Not even begin to comprehend
Feeling hot, sticky blood On your hand
Blood of your enemy
Paying dear for his tyranny
Or is it your own blood...maybe your buddy?
ďIt Donít Mean NuthiníĒ

You cry out in a primal scream of despair...
Welling inside voice a swear
ďWhere, dammit, where
In this fetid land is hope?"
Principled men, good men, find it so hard to cope...
But when in still silence comes momentary lull in the fray
Nestles a tear in the tough guyís eye that day...
ďBut It Donít Mean NuthiníĒ

It Donít Mean Nuthiní
When your best buddy...
On the narrow banks of rice paddy muddy
Your brother in arms
Steps on a land-mine in this world of harms
And as they do every blasted time in this festering hole
That mine blew a hole in his soul...
He lost his leg...
Hear him screaming for his mother beg...
Bloody and torn...
Lost and forlorn...
Hear him as like a baby he cries
Hear his last gurgling cry before he dies
Hold him as he lost his life...
Whoíll tell his wife
ďIt Donít Mean NuthiníĒ

Calmly wash the blood off your hands
Now lonelier in these alien lands
Yours but to bite the bullet...and go on
Now your brotherís bloodied and gone
To a far-off soldierís hell for Nam's sins to atone
Leaving you to pick up the pieces...
Fighting hard to keep from going to pieces...
ďAn It Donít Mean Nuthiní you sayĒ
As you slump to the ground to pray...
End of subject...
You say, with lowly feelings abject
ďIt Donít Mean NuthiníĒ
Repeating a phrase growing increasingly thin.

You feel the horrors eating at you so bad
Yet, know you canít afford feeling so sad
You've still got to keep your head about you
Raise beleaguered eyes to go on and do
For when being alert ďisĒ life or death important...
You cannot relent.
Put away thoughts welling from soul depths cruddy
Wearing you down like a liquor besotted toddy
Can't afford thinking of your buddy
With the far away eyes
There's no time for grieving those mindless sighs
Just put him into that body bag filled with his agonies
ďCause It Donít Mean NuthiníĒ

There's no time to cure an unbelieving stare
Malevolently looking to the forests to dare
Carry him to the medevac dustoff...
You'll go insane unless the memory you blowoff...
With every fiber of your deep down being loving him
Wishing there was something more you could do for him
Feeling guilty...
In the warís greatest travesty...
Trying not to cry
why wasnít it you had to die...
ďGod...it Donít Mean NuthiníĒ

ďSay it donít Mean NuthiníĒ
And just turn and walk away
When you just canít handle it till some other day
Some far off day...
Only another vet can understand
Only another vet can comprehend
One whoís walked the rim of the last mile
One who says he never again will smile
Spending time still searching "the park"
From dawn till dark
Bravado belying the fateful tear
Hiding deep down inside his fear
Death's specter still hovering gruesome near
Into the valley of the shadow I shall not fear
Cause "It Donít Mean NuthiníĒ

You didnít want to be the one from the medevac
To turn your back
Face the creeping forest motley black...
Just turn and walk away
Back into the heat of deadly fray
Back where people try to kill you
You donít plan to live forever, do you?
You know itís now your turn to bleed
Plant in Vietnam your precious seed...
ďBut It Donít Mean Nuthiní.Ē

Now when you hear vets say, ďIt Donít Mean NuthiníĒ
Just know...it means everything!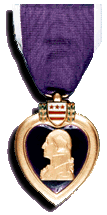 If you approve of this site, please show your approval by clicking above graphic...which will enter your vote for "Vietnam Picture Tour," as a top military site!


Visit my Vietnam Poems index,
each poem with more action graphics and Pictures
CLICK TO VISIT...



From the lens and poet's pen of a combat infantryman!
Please Be Kind and my Guestbook sign, That I Might Know You Passed This Way!