Do not scroll down until you see the sunset...
Place mouse cursor over each picture to reveal that soldier's name...
Most of my poetry has centered on Vietnam, for I directly experienced the Nam ... but many asked that I write to honor our current servicemen presently at task in Iraq and Afghanistan. Regardless of your feelings about the wrong or right of this war, it behooves each and every one of us to support our troops ... to honor our nation's sons and daughters, brothers and sisters, mothers and fathers. Honor those who have seen duty clear, far and away from home. Honor those who paid the ultimate sacrifice in devotion to a country they loved more than life. Honor our heroes!













Portraits of Heroes
a poem by Gary Jacobson, with portraits provided by the artist Kaziah, oil on canvas. Kaziah paints these heroes portraits free for families of American servicemen and women who have given the ultimate sacrifice in Iraq, giving their all in the line of duty, as a way to say Thank you! Visit Kaziah's website for further information, or application for a free painting, and more portraits, http://www.kaziahthegoatwoman.com/kaziah.html
All images are copyrighted by the artist, and the families of the heroes. Please, if any immediate family of men and women heroes pictured above do not wish their family hero to be pictured here, for any reason, notify me at my email adress listed below, and I will remove the heroes picture with honor.


Portraits of Heroes
poem by Gary Jacobson © July 4, 2005

They smile back at us
As if wondering, "What's all the fuss?"
Eternally alive and well
Despite their dance with the denizen's of hell
As if they'd never felt the pain
As if in their hearts they held no blame
As if comforting anguished hearts they left
Forever bringing pain to families bereft.

They fought freedom's foe
To hell and back did go
Contending for right in a fight mid storm clouds of terror
Felt violent anger's sting in frenzied furor
Coupling deepest dread, with imminent danger's apprehension
Touched by disparate emotions, joy and trepidation
Feeling deep rewards of a job well done
Having seen in smiling faces of the oppressed, the shining sun.

Proudly their all, for all of us they gave
Only a stepping stone from birth to grave...
O, but heroes have felt the pain
Coming down bricky hard in pouring rain
Wracked in hating insurgents disdain
Ordained to never allow one moments peaceful sleep
Stare at the picture of the man, and for him weep
Kneel before his earthly image, let forlorn wet rivers seep.

Look in the eyes.
Know the pain ... feel that which therein lies.
Know they are not there, to heaven's firmament they rise
These our children, warriors, the fruit of America's womb.
Our fathers and brothers met the grim reaper of doom.
Mothers and daughters, still with that rosy cheeked bloom
With bravery faced the war demon's thrust
Through and through, back from whence they came, life to dust
Bloody primordial rust.

With glory laud, and honor begotten
Gone now, but never forgotten
They at once blessed this life
Tackled willingly, challenges beset with hurdles rife
Diligently discussed it, and cussed it
Till death emptied war weary eyes of life's sweet essence
Sent brave spirits reeling to the Sublime Omnipresence
Seeking purest love in the great Supernal Quintessence.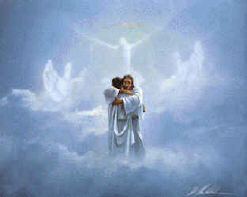 O what comfort that sweet sentence gives
He lives!
Once dead sisters, brothers, children, parents ... in loving arms
Far away from hostilities back in "the world" of harm's
Now lie forever in comfort's repose
In heaven's rest on Celestial R and R, I suppose
Preparing the way for loved ones by paradisiacal reconnaissance
Building mansions on high in perfection's excellence...
Abiding in the great land of love in holy peacefulness.




Please, if any of the immediate families of men and women heroes pictured above, do not wish for their family hero to be pictured here, for any reason, notify me

and I will quickly honor the request to remove it.



Now as we stand not only on the precipice of war with Iraq, but have gone into the belly of the beast that is Iraq, into the valley of the shadow of war to face the ogre carnivore of war...I offer this special prayer to the warriors.(click logo).


If you approve of this site, please show your approval by clicking above graphic...which will enter your vote for "Vietnam Picture Tour," as a top military site!


Click the Combat Infantry Badge
to go to my Vietnam Poem's index, each poem
with more action graphics and Pictures



Click the Soldier's of the Wall to return to
"Vietnam Picture tour,"
from the lens and poets pen of a combat infantryman...
to leave the sweet and sour taste of "the Nam"
pungent in your nostrils.